If you have a business, you might have experienced the challenges of ecommerce inventory management. Imagine you got bulk orders during the peak season, but most items are stocked out. In this situation, you can lose potential sales opportunities and tarnish your reputation as an ecommerce merchant in public.
Keeping a regular physical record of stock, reordering schedule, and stock management can feel overwhelming daily. Ecommerce inventory management becomes even more challenging when your business is scaling up, especially when the trends get volatile throughout the year.
But, there is a solution: Ecommerce inventory management software. Thanks to advanced technology, such tools can now look after all your inventory management tasks so you can focus on growing your business without any worries.
In this article, we will learn about the seven best ecommerce inventory management software in detail.
What is Ecommerce Inventory Management?
Inventory management streamlines and automates tasks like tracking inventory effectively, managing reordering, and updating the database so that you never deal with stockouts or overstock.
Using inventory management software for ecommerce, businesses can manage their stock levels and ensure that products are ready when needed the most. Thankfully, Ecommerce inventory management solutions can be used by businesses of all sizes and types.
The inventory management system offers benefits like better stock control, increased operational efficiency, reduced inventory costs, and higher sales. These tools are a must-have if you want to streamline your ecommerce inventory operations.
7 Top E-commerce Inventory Management Software
Here is a comprehensive list of the best ecommerce inventory management software. Let us dive in:
1. Zoho Inventory
Zoho Inventory is a cloud-based software designed to help merchants grow their businesses through seamless multi-channel ecommerce inventory management. The software keeps track of the merchant's entire sales activity.
From acquiring the contacts of leads, creating sales orders, and generating invoices to managing sales on several online marketplaces, Zoho Inventory does it all!
Features
The tool tracks and manages end-to-end customer lifecycle from accepting orders to dispatch and everything in between.
The ecommerce inventory management software lets you seamlessly integrate with other Zoho apps and third-party software besides providing functional features.
Integrates with various ecommerce platforms, such as Amazon, Shopify, Magento, BigCommerce, eBay, etc.
Access all your transactions and order status from a centralized dashboard.
You can add serial numbers & track the movement of products along with their expiration date.
Integrate with the Aftership app and track the order from shipping to delivery.
Price: Starts at $59 per month. Free version available with limited features.
2. Katana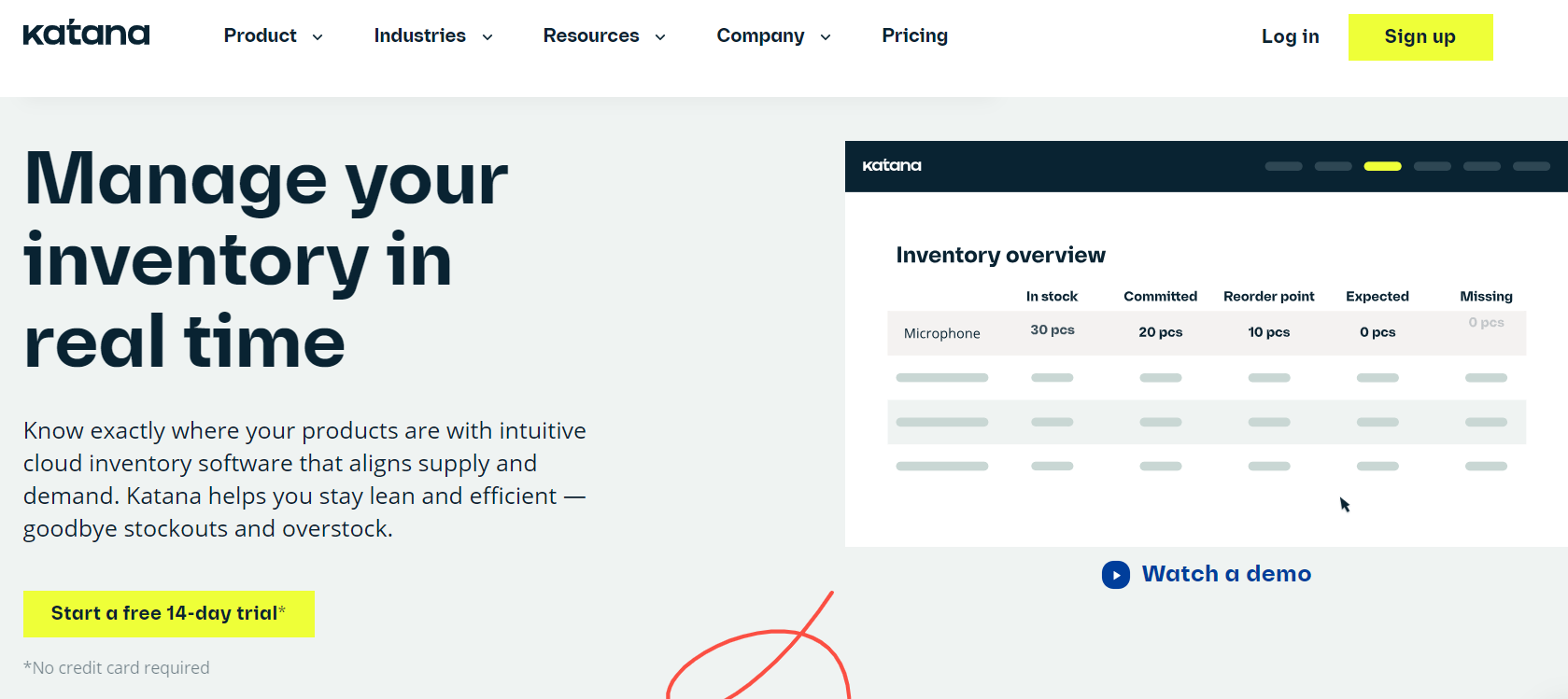 Katana is a cloud-based ecommerce inventory management to help businesses manage their inventory efficiently. With a live inventory feature, you can track the availability of raw materials and products and follow the stock movements across your complete production cycle in multiple warehouses.
The built-in features and seamless integrations of Katana make it an ideal end-to-end inventory management software for ecommerce businesses.
Features
With the Live inventory management feature, you can track the inventory data while purchasing to prevent stockouts or overstocks.
Track inventory levels of items across all locations and evaluate the arrival times for efficient order fulfillment.
Katana lets you manage operations effectively, from scheduling to resource allocation, with a Shop Floor App
Access Katana's knowledge base and live support team and receive help when you need it the most.
Get complete visibility of inventory levels from a single dashboard through centralized order fulfillment operations from all sales channels.
Price: Starts at $99 per month. 14-day free trial available.
3. Linnworks
Linnworks is a versatile inventory management platform suitable for businesses of all sizes. Whether it's a small business or a large enterprise business, Linnworks caters to your specific needs through centralized inventory management, automated key processes, and streamlined operations.
The cloud-based ecommerce inventory management software platform enables users to enhance their efficiency and scale up their business from anywhere with just a reliable internet connection
Features
Centralized ecommerce inventory management across multiple sales channels like Amazon, eBay, etc.
Linnworks offers seamless integration with various ecommerce platforms and accounting software.
Get access to advanced shipping and logistics tools that enable users to compare Prices, generate purchase orders and shipping labels, and automate order fulfillment.
Real-time inventory tracking, powerful analytics, and reporting on metrics like sales, inventory turnover, etc.
Price: Quote on Request.
4. SkuVault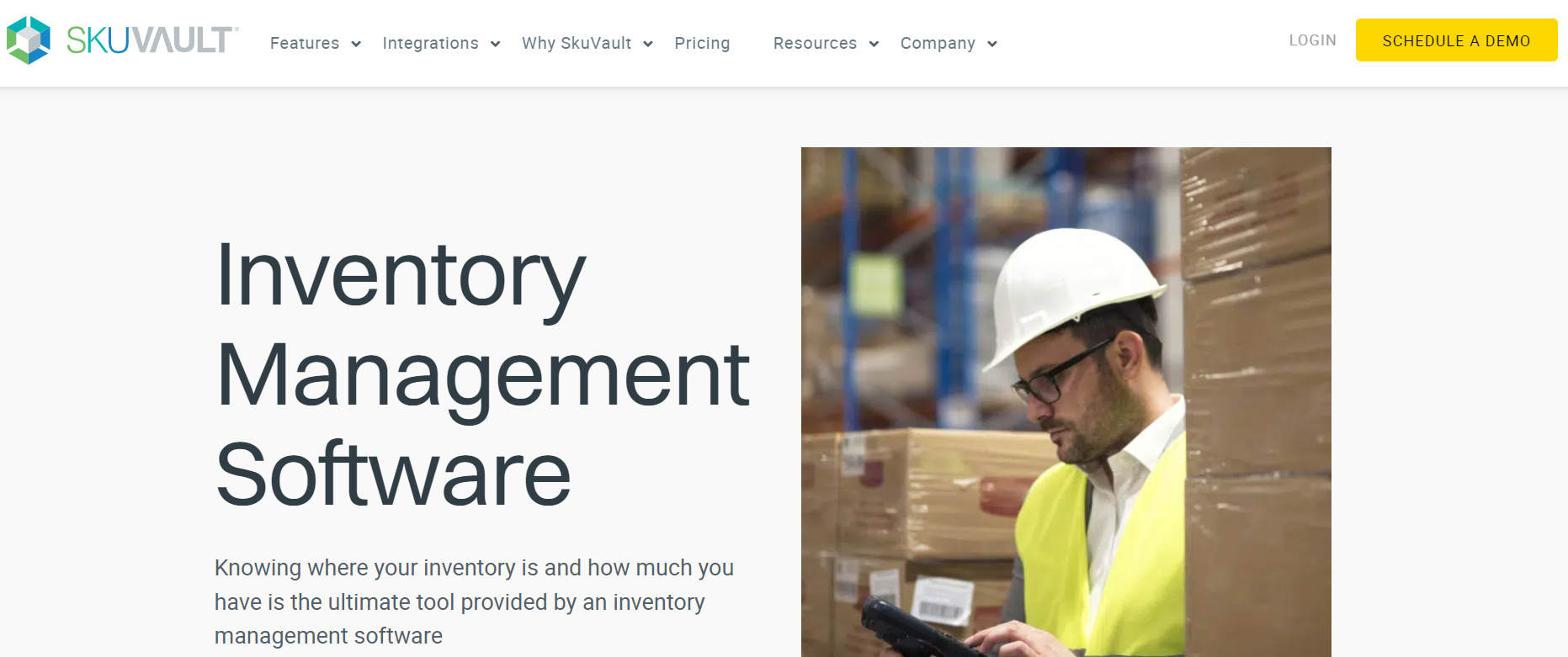 SkuVault is a thriving ecommerce inventory management platform based in the United States. However, it has a massive customer base beyond geographical boundaries. It offers its users cloud-based and hybrid deployment options, making it suitable for many businesses.
SkuVault offers real-time inventory synchronizing, order and shipment management, product catalog, barcode scanning, etc. The ecommerce inventory management software is easy to use and lets you create bundles, track packaging, make substitutions, and avoid overselling.
The multi-channel ecommerce inventory management platform's Kitting feature enables you to maximize potential sales through several SKU variations. You can develop multiple bundles to facilitate your product needs and expand on customer inventory selection. Create more variations with Kits and Bundles and complete the purchase orders quickly.
Features
Seamlessly integrates with top platforms like Amazon, eBay, Shopify, WooCommerce, Salesforce, etc.
Enables advanced inventory tracking with features like barcode scanning across different warehouse locations.
The cloud-based data sharing enables you (merchants) to do business anywhere in the world.
Get dedicated customer support round the clock to resolve issues quickly.
Price: Pricing depends upon the number of orders.
5. Ordoro

Ordoro offers one of the best ecommerce inventory management software services, from supply chain management and part-based inventory tracking to shipping the items. The platform's purchasing automation makes it unique among others.
Ordoro automatically forwards orders to different warehouses and assigns vendors for fulfillment through dropshipping. The tool is perfect for multi-channel ecommerce inventory management. It is a lifesaver for businesses looking to sync inventory across all the sales channels, track stock items, and manage dropship and supplier purchase orders.
Features
Track your inventory items and their levels. You get notified whenever your stocks are below the marginal level and remind you of reordering.
Ordoro enables multi-channel fulfillment and lets you manage customer orders from all your sales channels
The ecommerce inventory management platform provides uniform customer support to all users via phone, email, chat, online forums, or help center.
It offers seamless integrations with 40 other business software, including sales channels like Shopify, shipping carriers like FedEx, fulfillment services, suppliers, PoS, and accounting.
Price: Starts at $59 per month. A Free version is available.
6. ShipBob Merchant Plus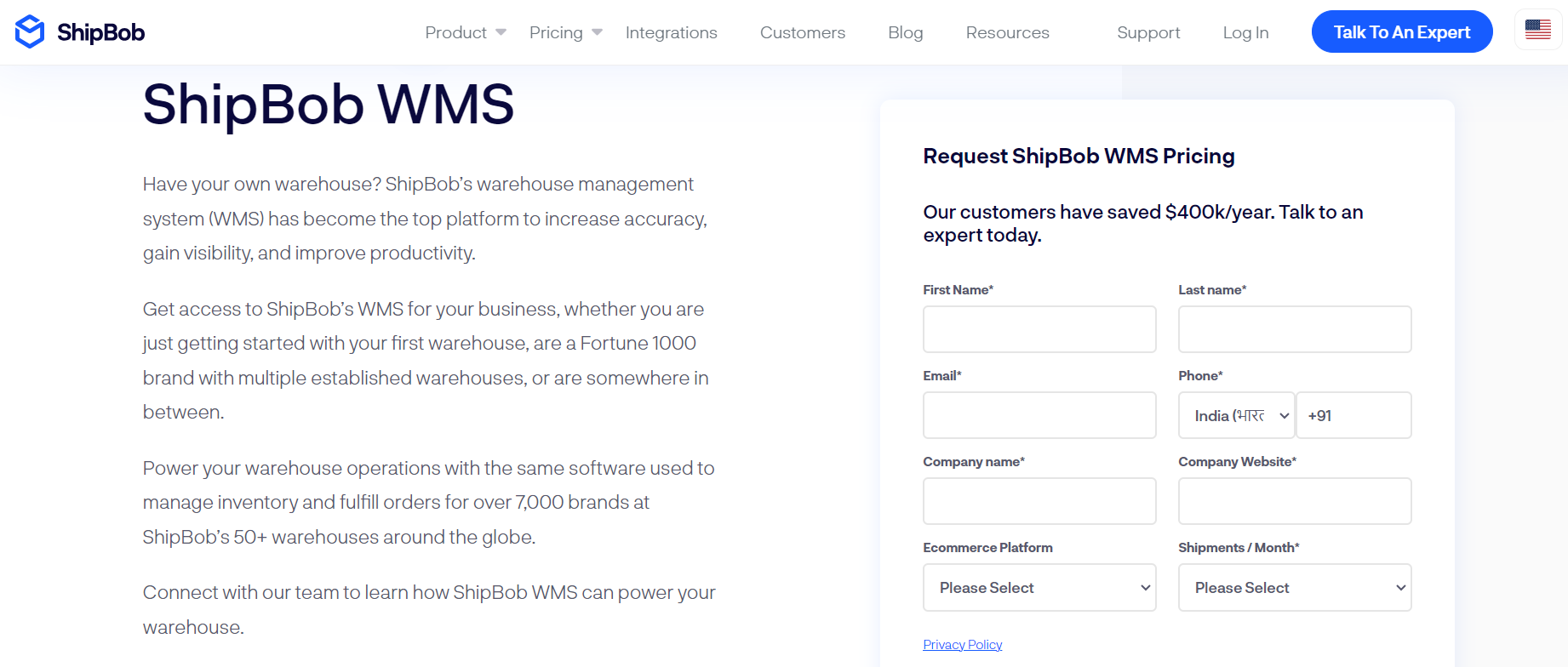 ShipBob is a third-party logistics organization offering warehousing, order fulfillment & management, and shipping solutions for small and medium-sized businesses (SMBs).
Every ShipBob account offers free cloud-based ecommerce inventory management. This helps oversee inventory, orders, and other operations effectively.
The inventory management software for ecommerce integrates with major platforms, allowing retailers to track and manage inventory through their stores.
Features
Get real-time access to the inventory levels and shipping status across multiple warehouses.
ShipBob owns 35+ warehouses in the United States, and the network is constantly expanding. This vast network enables practical and efficient inventory distribution, resulting in enhanced shipping speeds at lower costs.
Robust analytics and reporting to track key metrics, helping you make strategic decisions and promote business growth.
ShipBob offers complete transparency to your orders by enabling you to track their progress from the dashboard. Detailed and customized invoices are updated daily to maintain billing transparency.
Price: Pricing quoted on request.
7.inFlow Inventory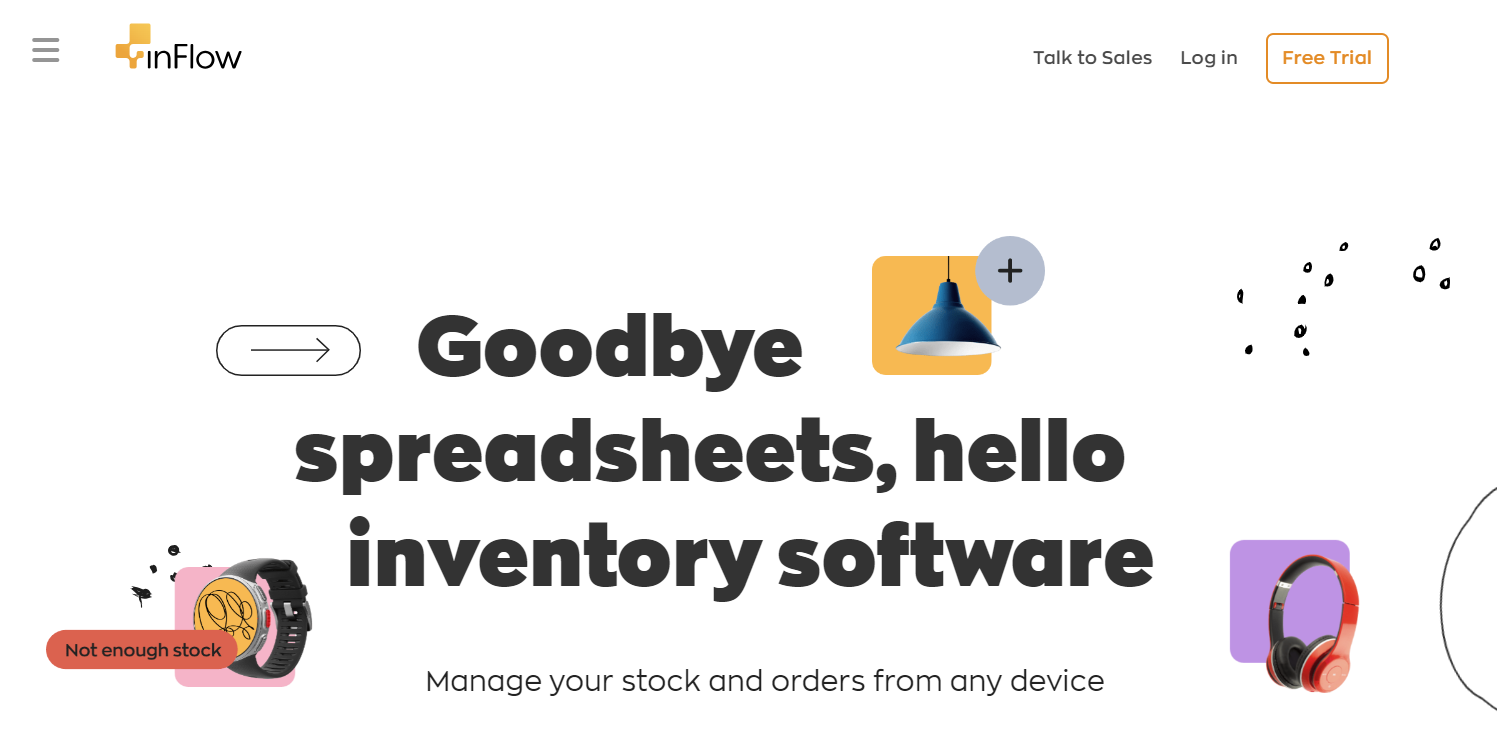 Meet all your ecommerce inventory management needs in one place with inFlow inventory management software. Over 40,000 businesses trust this platform. It comes without any hidden fees, additional set-up costs, or contracts.
You can track A-Z of your inventory from your smartphone and stock up the items at the right time. This ecommerce inventory management software is used by various businesses, including retail shops, IT, tech companies, and other higher education institutions.
Features
The tool seamlessly integrates with 95+ platforms to grow your eCommerce business.
Organize your products using product names, SKUs, multi-level categories, product photos, dimensions, weight, serial numbers, etc.
It lets you pay vendors in batch payments or partial payments and track balances and credits.
Both iOS and Android mobile applications help you manage inventory items on the go.
With a rich array of valuable features, inFlow is undeniably one of the best ecommerce inventory management software.
Price: Starts at $219 per month. 7-day free trial available.
Closing Thoughts
Effective inventory management lies at the center of a profitable ecommerce business. It is necessary to choose an ecommerce inventory management software as per your unique requirements.
As we have discussed, the top 7 ecommerce inventory management software will definitely help you streamline your inventory processes. After all, you sure want to diminish costs and enhance customer satisfaction to keep the profits rolling in.
At Vrhunec, we understand the intricate challenges ecommerce entrepreneurs face. That is why we offer a suite of cutting-edge ecommerce solutions to empower your business. With a long list of happy clients, we provide 360-degree services to help businesses build thriving ecommerce stores.
Keen to know more? Let us connect!