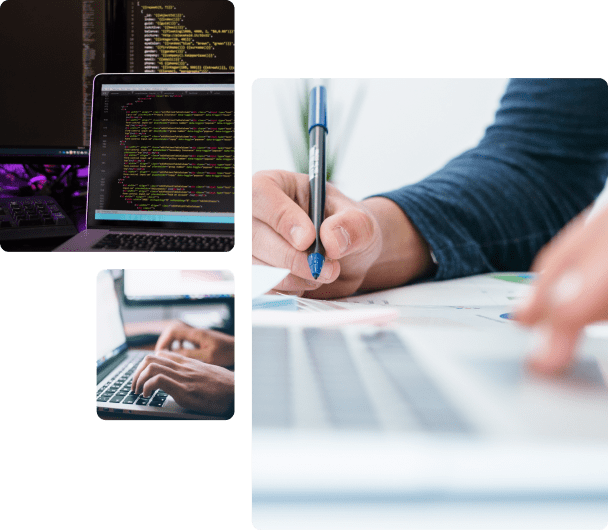 We provide all the services required for your business
Once you have a business idea or product to sell, we provide end to end services to make it possible. Discuss your business goals with our consultation experts and receive guidance to streamline the process towards objectives. Our design experts and developers create a website with cutting-edge features and tools.
In case you are worried about marketing, meet our SEO experts who can provide marketing to your products. We stay with you till your business goals are accomplished.
We Follow The Process
How it Works
01
Requirement Analysis
Discuss your business goals, budget, website or store requirements and what all you want to achieve through us. We will learn about your project, and perform deep analysis.
02
Design and Development
We choose a perfect tech stack or e-commerce platform and the right infrastructure for your business. Our team uses the latest technologies to beautifully design and develop your website.
03
Deploy
The content is uploaded and the website undergoes a test run. Once the test is successful, your website is ready to launch.
Get in Touch
What Are Clients Say
"We reached out to Vrhunec for help launching our web store and having it integrate with our existing website. In the first 24hours of launch our store generated thousands of dollars in sales. We are professional baseball team in South America, with a large fan base worldwide. This project was very important to us. We could not be any happier with our decision of working with Vrhunec for this project. They were super organized, low cost, and an absolute pleasure to work with."
Luis Amaro
General Manger Aguilas del Zulia
"Reliable and Effective! My request has been implemented within 24hours from my first contact, I would definitely recommend Vrhunec in case you need a fast and responsive development service."
Enrico Gandini
SanjayKasliwal
"The team at Vrhunec have been very helpful. We used their full page banner code and it worked really well. Further follow up with them for extra assistance was handled promptly and professionally. "
Loretta R.
Goodwill Wine
We Have Branches All Over The World
Build a stunning eCommerce store and dominate the digital space with your brand. Vrhunec lets you create a seamless shopping experience for your audience with customized e-commerce websites.